Which Bath Bomb Scent Should You Choose?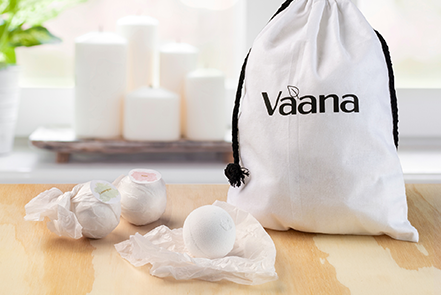 Whether you're purchasing bath bombs for yourself, or as a gift to friends and family, it'll be good to know what each scent can do for a better bathtime experience.
All Vaana Bath Bombs are handmade with safe, pure, and natural ingredients infused with special premium essentials oils that naturally fragrance and provide therapeutic benefits.
Find out which scents are perfect for you:
Citrus Scents
Orange: Cheerful and bright, this scent reminds you of fresh oranges and is known to boost one's mood. Because of its uplifting scent, it helps to alleviate stress, anxiety, and fear. It also contains Vitamin C which is great for clearer and healthier skin.
Grapefruit: Sweet, tangy, with a touch of bitterness, it is an energizing scent that can relieve stress and is great for days when you feel heavy and sluggish. It's also been known to improve the appearance of skin blemishes.
Lemon: Powerfully fresh, tangy, and energizing, it is loaded with antioxidants that reduce inflammation and cleanses your skin. It can also boost energy levels and may relieve nausea. 
Lime: Clean, fresh, and tart, this is a great choice for those who want to cleanse their skin and mind from impurities. As a natural antioxidant, it aids in reducing dark spots from the skin.
Lemon-Eucalyptus: Bright, lemony, and minty, this blend of lemon and eucalyptus energizes, and stimulates the mind and body while providing some clarity. The antioxidants in it can also deeply cleanse, refresh, and restore the skin.
Lemongrass: Refreshing and crisp, this scent is great for reinvigorating the mind and body especially when you are feeling down or lethargic. As a natural detoxifying agent, it can aid in clearer and brighter looking skin.
Floral Scents
Rose: Sweet and floral, this helps relieve stress and varying levels of anxiety. It helps nourish mature skin and the antioxidants can improve one's overall complexion for a younger look.
Lavender: Subtly floral and calming, it helps you destress, relax, and promote sleep as a natural sedative. Breathing it in may also help relieve headaches. On the skin, its antibacterial properties help heal skin blemishes or any itching, and swelling. 
Geranium: Rosy and fruity, this strong scent is calming and balancing that can help relieve depression or anxiety. It is also able to brighten the skin, and aid in the treatment of acne, dermatitis, and other skin diseases.
Herbal Scent
Spearmint: Fresh, slightly minty, and sweet, this scent is revitalizing and balancing that can uplift moods, enhance concentration, and help relieve headaches or nausea. Because of its natural anti-bacterial properties, spearmint makes a good skin cleanser that also helps improve the skin's appearance. It may also impart a cooling sensation that may help alleviate itchiness caused by dry skin and other irritations.