Our Story
We started as a soap making company until one day, someone asked if we could create bath bombs, and that's when the magic began. After looking into bath bombs, we started to do a lot of research on what constitutes one, how to create that satisfying fizz, the wonders of essential oils, and the powerful ingredients derived from nature.

The naturally moisturizing ingredients intrigued me as someone who suffers from psoriasis myself. I always had to be careful when bathing because some bath products would cause my skin to flare up. My skin would get itchy and dry which made it a lot worse. So naturally, I had to try bath bombs myself and it was amazing. It was like filling a tub with moisturizing lotion! It helped relieve and soothe my skin. Plus, I loved the way my skin felt after. This made me decide to improve the usual bath bomb recipe, and start sharing it with the world so others can feel the same way.

After testing out recipes and doing a lot of tweaking, we had finally perfected Vaana bath bombs. As soon as we started selling them, people loved it! They even started to share it with their friends and family as gifts! We learned that it was because of the all-natural ingredients we used and how good they felt after a calming bath. Pretty soon, word went around about the moisturizing benefits of our bath bombs, specifically cocoa butter, shea butter, and coconut oil which took our business to a whole new level. People had started to buy our products as an eczema relief for themselves and their kids. The moisturizing benefits from using natural ingredients were able to soothe dry skin and created a smoother, silkier skin surface. From there, we continuously aim to provide our customers with the best natural ingredients and only the highest quality essential oils to enhance their bathing experience.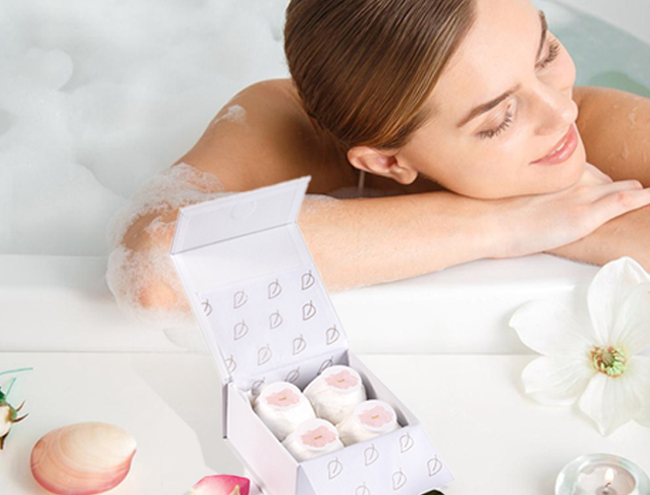 What We Do
By using all-natural ingredients and only premium quality essential oils, we carefully hand make our bath bombs to provide our customers with a spa-worthy experience in their own bathtubs. All Vaana Bath Bombs are made with our customers in mind so we adhere to strict standards to always produce safe, toxic-free, and pure products. Our scents come naturally from essential oils sourced from mother nature herself. We make sure not to use any dyes or artificial fragrances to protect our customers from skin irritants and their bathtubs from unwanted stains. We want to continue to provide people with bath bombs that not only cleanse but can soothe and heal skin problems like eczema, psoriasis, and dry skin while calming and soothing the senses to uplift their moods.
Learn More About Our Products
Our bath bombs are carefully handmade with all-natural ingredients and infused with premium-quality essential oils to stay safe, pure, and toxic-free.
Let's Find Out!
Let customers speak for us